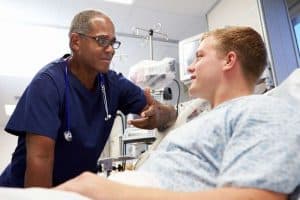 Certain kinds of injuries can have severe and permanent effects on the way you live your life. They're often called 'life-changing' or 'catastrophic', depending on how you're feeling about them on a particular day. They might involve a degree of paralysis, the loss of a limb, or a severe burn.  
Making the adjustment to life with such an injury can be difficult. There are no easy answers – but there are a few steps that reliably make life that little bit easier.
Seek Compensation
While no amount of money awarded in damages is going to compensate for a life-changing injury, it might help you to receive the specialized care and equipment you'll need, and to remove the stress of financial pressure at this time. Consult an experienced personal injury firm, and see whether you have a case. This is especially worthwhile if you've had an accident at work.
Adapt the house with the right equipment
When you're living with a serious injury, even basic household tasks that you took for granted can become extremely difficult, if not impossible. Installing a few helpful items around the house can make a world of difference. These might include handrails, stairlifts and other mobility aids. It's also worth taking advantage of the aid offered to you by friends and family – even if you're not used to having to rely on people.
Talk to those who've been there
While your friends and family might be extremely well-meaning and supportive, they might not understand what you're going through. Fortunately, the internet makes it easy to talk to and to read the stories of, people who've really been there. 
Find work you can do
It might be that your previous job required abilities that you no longer have. If you've been working as a skilled tradesperson, and have been for most of your life, then the profession might be a source of your sense of identity and purpose. Being worried about your future employment can also put you under financial stress, which can make a bad situation worse.
Think about the skills and knowledge that you do have, and how you might put them to work in a related profession. It might be that your workplace can make reasonable changes to allow you to continue working – and they'd be legally obliged to do so.
Pick up a hobby
If you're looking at a long spell of downtime, then you might need a new hobby with which to occupy yourself. Many look into meditation and other forms of mental exercise, but you might equally take up music, art, or writing.