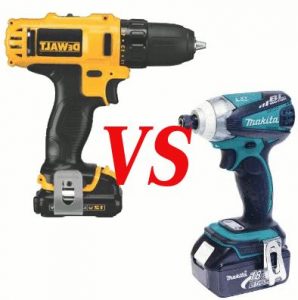 When you're new to DIY, it's easy to be confused by the array of tools on offer. Some of them, on the surface, look very similar to one another. Even experienced tradespeople can find themselves scratching their heads, from time to time.
Among the more common sources of confusion is the distinction between the screw gun and the drill. Let's examine the differences between these two items, and see if we can determine which is right for you.
The Drill
How does it work?
A drill comes with a rotating tip that, with the help of the right bit, can create holes in a whole range of surfaces. In certain drills, like Milwaukee drill drivers, there's also a hammer-action. As well as twisting the shaft, it'll also push the bit back and forth, thereby vastly improving the power of the drill.
Pros and Cons
A drill has an adjustable grip built into the tip. It can therefore take a range of different drill bits, and serve a range of purposes. You can use a drill to do the job of a screw gun; it just won't do it as quickly and efficiently.
When should we use it?
If you're an average DIYer, then you'll need to have a good drill in your arsenal. Look for something with sufficient voltage to take care of the tasks you have in mind. Whether it's putting up a set of curtains, wall-mounting a bookshelf, or threading a gas pipe through a wall, a drill can take care of it!
The Screw Gun
How does it work?
A screw gun is a form of an electric screwdriver. It comes with a single bit and an adjustable depth so that you can be sure of consistent results whenever you're using it. Certain types of screw guns also come with reels, a little bit like the belt-feed on a machine-gun. So, you won't need to load a screw manually. Much more efficient!
Pros and Cons
This is a specialized tool that does one thing extremely well. It, therefore, lacks the versatility of the drill. It doesn't provide the same amount of torque as an impact driver, either. With that said, it's much smaller and easier to handle than a drill.
When should we use it?
If you're fixing screws into plasterboard, the screw gun will allow you to get it done much quicker than a drill would. If you need to overboard an entire ceiling, then the screw gun is how you'll do it.