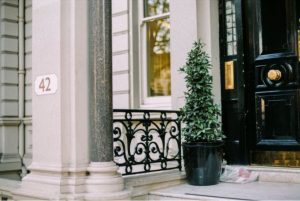 Whether you've recently moved into a new house or you're just getting around to upgrading the decor, a little personality goes a long way. It's the subtle touches that transform your house from a shelter into a home. The key is to find the balance between design trends and personal preferences without breaking the bank.
Here are some helpful tips for making your house a home while on a budget.
Enhance Your Entryway
There's nothing like walking through the entryway and knowing that you're finally home after a long day. This space is one of the best budget-friendly areas to enhance when making your home feel more welcoming and cozy.
Start with the outside first. Add a fresh coat of paint to the door, trim, and fixtures. You can use various accessories to make your door look more appealing and consistent with your preferred design scheme. 
Take a look at the lighting situation and consider upgrading or refurbishing the existing light. If your entryway has an overhang, consider adding a stylish pendant light to make the space more elegant. Add a nice welcome mat and some planters for an affordable-yet-amazing remodel.
When you step indoors, the organization is the key. Add small shelves or cubbies to keep footwear and outdoor wear tidy. Consider adding a bench seat where people can sit down to take off their shoes and shake off the day.
Refresh Your Cabinets
The kitchen is often considered the heart and soul of the home. It's also one of the most costly rooms to upgrade. Fortunately, there are many projects that you can do to improve the room without breaking the bank.
The cabinets are a huge focal point in the kitchen and offer plenty of opportunity for improvement. If your cabinets need to be replaced, you can find a high-quality budget-friendly option at bestonlinecabinets.com. You can also refresh existing cabinets with a coat of paint or gel stain or add new fixtures. 
Add a Backsplash
Another way to enhance your kitchen and make your house feel like home is to add a backsplash. Again, there are endless options for budget-friendly backsplashes that suit your decor preferences. 
Adding a simple white tile backsplash will reflect the light around the room, making it feel more spacious. You could also go bold with faux brass tiles for a more rustic, European vibe. 
Create an Art Display
It's a common trend among art lovers to acquire pieces over time then never display them. Make your house homier by creating an art display that sets the tone for the room. This display doesn't have to feature only art; you can also use photos, thrift shop finds, and floating shelves to create a custom masterpiece.
Consider how you can create unique art displays in various rooms, from the kitchen to the bathroom. Don't hesitate to add live plants to bring your display to life.
Change the Lighting
Altering the lighting options can transform how each room looks at different times of the day. Replace an old, out-dated fixture with something more modern and eye-catching, like a pendant light, art deco fixture, or chandelier.
You can also alter the lighting by adding various sources to each room, such as table and floor lamps. This versatility allows you to change the atmosphere of the room to suit the mood.
Add a Coat of Paint
Finally, the easiest way to make your home feel like yours is to add a coat of paint in a color that speaks to you. Whether it's refreshing a room or adding an eye-catching accent wall, the options are endless.
With these simple tips, you can help make your house feel like home while sticking to a budget.