There's no denying that bathroom renovations can be expensive. However, if your bathroom is dull and uninspiring, it is time to update it. However, decorating your bathroom doesn't have to be expensive, which is why we've put together a few budget-friendly decor ideas that actually work. Just because you can't overspend on the automatic toilet or floor heaters doesn't mean we can't give your bathrooms a major design update. We have 6 bathroom redesign ideas to help you make your bathroom look beautiful and chic –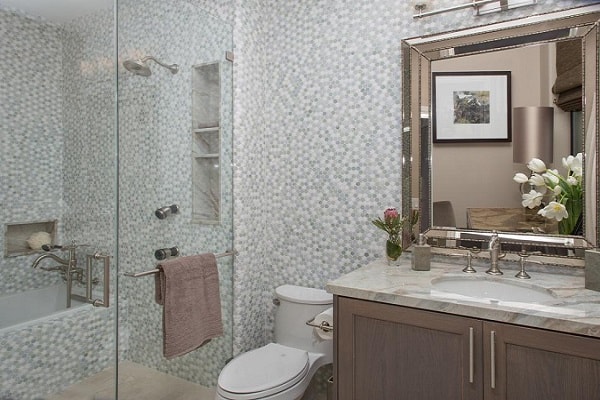 Invest in some good lighting
It's easy to go the LED way and choose the safe way. The bathroom, like every other room in your house, needs adequate lighting. Hanging lights will offer the space a sleek look while adding a bit of personality. This will give the bathroom a more opulent appearance. Large-scale lighting, especially flush-mount chandeliers, should be a good choice.  If the room is too dim, it may seem bland, so decide what lighting you need by looking at how much natural light is available during the day. The lighting should be adjusted to suit the mood of the room. This is an easy way to bring some structure to the space, whether it's a chandelier or an industrial lamp, wire or grass-woven pendant.
Art on the wall
It's not as weird and uncommon as it sounds. There's no need to look at the blank walls of the bathroom. Water-resistant and cost-effective, treated canvas prints are a great option. Opt for oversized proportions for maximum visual effect. For a special look, have a local printer transform a favourite photo into personalised wall art. Canvas prints can now be generated and laminated for water resistance by custom printers. You can also go beyond paintings. A wall gallery of favourite items, such as sea shells or sand art, is an intimate and refreshing way to decorate the bathroom walls. You may even do your own paintings or go shopping at a thrift store.
Tile it up!
The look and feel in your bathroom can be fully transformed by tiling. In a small room, larger tiles will make it feel bigger and more spacious. Small, mosaic tiles can help to make a room feel cosier and more intimate. So whatever look you are going for, you can choose between large subway tiles or small mosaic tiles. Look for one-of-a-kind colours and prints that suit the aesthetic and atmosphere of the room. The right colour scheme will make a big difference in the room's look. Wondering how much bathroom renovation costs? Get quotes from licensed and insured professionals for a job well done.
Fixtures and mirrors
Your bathroom will look totally different with new cabinet handles, towel bars, toilet paper tray, and faucet. Replacing your bathroom fixtures will also revive the appearance of your countertop. For grooming and applying make-up, use bright lighting in the mirror, but incorporate a dimmer switch to the main light to create a mellow vibe when bathing. Search for a round mirror with lights or a long vertical mirror that elongates a small wall. Which shape you like, make sure it's a good size to make the room appear bigger.
Make the most of the natural light
Make the layout as functional as possible for simple movement and flow. Remove old boring shelves and remove your shower curtain. Install the shower behind a simple glass wall. Build a wall-mounted toilet or one with a concealed drain pipe to avoid baskets and floor storage. Another way to brighten up the bathroom is to take advantage of the skylight. Skylights are the most obvious way to brighten an indoor toilet. When there is clear roof entry, this is a comparatively easy task, but there are also ways to duct daylight to where it is required on a ground floor with another level above. Coffered ceilings with lights are an excellent way to provide illumination during the day. The lustre of metallic mosaic tiles is reflected in the light from these sky panels above the shower area.
Vanity
Select a stylish, contemporary style with a deep drawer underneath the shelf. On the wall above, hang a curved and tucked-away mirrored cabinet. Simple tap hardware, as well as complementary textures and finishes, can be used to accessorise your vanity. A well-coordinated look instantly makes a room seem larger. Nobody likes a messy bathroom. Install a floating vanity which creates extra storage and give the impression of more room on the board. Have you been inspired yet? Are you wondering who can get all this done? Don't worry, we will help you with that as well. Get 3 no-obligation bathroom renovation quotes and show off your amazing space to your friends and family.