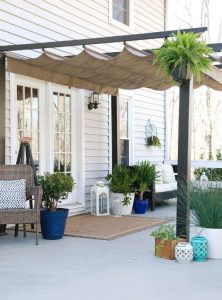 If you are lucky to have a patio at home, you should decorate it to make it a relaxing, entertaining hub for your family and friends. Most homeowners often deter decorating their patios because they feel they cannot afford to. Experts in the home décor state that decorating your patio does not mean you need to spend a fortune. There are several budget-friendly ideas where you can effectively decorate your patio without hassles at all.  This post will show you how-
Budget-friendly ways for you to transform the appeal and beauty of your patio 
With summer approaching in a few months, you can start decorating your patio from now so that by the time the season comes, you are ready with a comfortable space for evening entertainment and rest. The following tips will help you to decorate your patio affordably- 
1. Paint the floors – This is an inexpensive way to get a colorful patio with awesome floors. Gloss paint gives you a shiny finish, and you can choose earth colors as per the floor's pattern palette.
2. Paint old furniture – For the patio, you do not have to invest in new furniture. You can upcycle and repaint old furniture pieces to make them the focal point of your patio. Once done, you can cover it with a colorful and vibrant tablecloth. 
3. Buy affordable poufs – If you do not have money for large pieces of furniture, you can use floor poufs that are an inexpensive way of arranging seats on your patio. Garden stools work well too. If you have a creative streak in you, make your ottoman in the fabric or pattern you prefer. 
4. For small patios – For small patios, add some pillows and cushions for color and comfort. Keep them on garden stools, or you can even sew an outdoor floor pillow yourself. Just remember to take them in if you do not use them. 
5. Dress up the place with fairy lights – When you have completed everything, dress up the place with some cute fairy lights or string lights if you can even buy LED lanterns and candles online for your patio as well. 
Protecting your patio against weather elements 
When it comes to protecting your patio, you can use good quality outdoor blinds to keep weather elements like the sun, wind, and rain away. They are available in various colors, and you can choose one that goes well with your décor. However, when it comes to the purchase and the installation of these blinds, make sure they are done correctly, as in case they are not properly installed, they can be damaged in the event of severe rain, wind, and storm. 
Therefore, when it comes to decorating your patio, keep the above tips in mind. Add some potted plants, and in case you do not have space on the floor, you can hang some plants on the wall. In this way, you can effectively create a stunning patio on a budget. Your friends and family will love the place in summer when it becomes a good hangout spot for all of you.