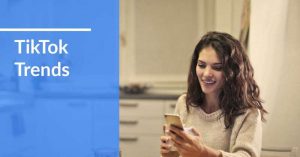 With its focus on short-format videos focused on pure fun and entertainment, TikTok has proved to be immensely popular the world over, especially with the younger generation. Within just a few years, it enjoys the support of over 800 million daily active users who create and share a huge volume of video content designed to make other users participate. With the social media app being used by a very wide spectrum of users with the majority being Gen Z, it presents a very attractive destination for marketers.
TikTok Trends
Belonging to the young generation, TikTok users keep on chasing trends. Some of the top ones that are expected to have a major influence in 2021:
Memes: Usually funny, often sarcastic, memes have always been popular with users on Instagram, especially TikTok as a device for creative self-expression. According to a report in The New York Times, big meme brands have already made significant investments in TikTok and managed to acquire followers running into several million even more than many influencers. Many individual memers who create memes on specific topics are also turning to TikTok in a big way. Also pitching in are an increasing number of teenagers who are creating meme brands from scratch.
Episodic Content
This is a kind of content where the creators of the videos plan it in a series just like episodes of a TV serial, only the videos are much shorter in keeping with the limit of one minute imposed by the platform. This kind of content is very useful for users who have relatively long content that they can split into several episodes to get around the duration restriction and connect better with their audiences. Of course, creators need to be masters of the short storytelling format to be successful in getting real TikTok fans.
Branded Hashtag Challenges
Hashtag challenges have proved to be immensely popular on TikTok and this trend is very likely to continue in 2021. In simple terms, a branded hashtag challenge is a fun exercise where the sponsor brand asks users to create a video of them doing something specific with the brand and tag the post with a specific hashtag. When carefully planned, many of these hashtag challenges have gone viral providing the brand a lot of publicity.
Branded Stickers
TikTok offers its users the opportunity of using branded stickers in a way that is similar to what Snapchat does. Brands can buy stickers with their information for creating brand awareness without having to take the effort of creating branded hashtag challenges.
Behind the Scenes Content 
A glimpse of what goes on behind the scenes in the offices or factory of a big brand is always very interesting to users of social media and TikTok users are no different despite their relatively young age profile. TikTok users prefer this kind of content because it is perceived to be authentic.
Conclusion 
Despite the different nature of the trends on TikTok, it is apparent that the focus is on original and authentic content that entertains. All the trends point to the tendency of TikTok users preferring content that is minimally edited and accompanied by relatable captions!