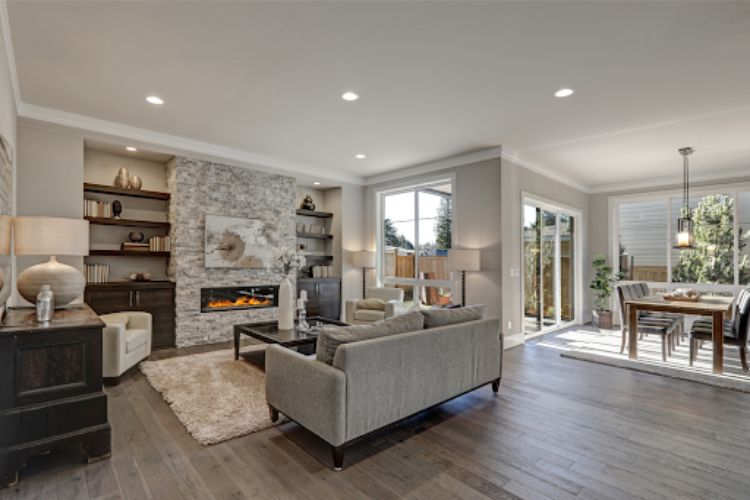 Living rooms are one of the most "lived in" spaces of any home. In fact, they typically serve as the foremost focal point and a place where you can relax, watch TV, read, or entertain friends and family.
Then again, say you've become a bit bored with your current living room design and feel like it's in need of a major overhaul. Well, you'll be delighted to learn you can redecorate and/or refurnish it with a few simple tricks.
Consider these ideas for reviving your living room's appeal:
Update Your Wall Art and Photos
There are hundreds of ways to fill your walls, and if you still have the artwork and family photos from the 1980s or 90s hanging and collecting dust, then it's probably high time to revitalize this space. 
For starters, consider swapping out the frames of old family photos for something chicer and more modern. Or, perhaps it's time to add some new statement art pieces to your living room. 
Looking for a conversation starter? Then opt for some high-quality, affordable wall art prints from Minted that will add more ambiance to your living room. While scouring the online marketplace of independent artists and designers, also consider adding some custom wall art or other décor options to better help complete your renovation. 
Breathe New Life into Old Furniture
Rather than shopping for expensive new furniture, you can still give your living room a whole new feel by rearranging or repurposing any couch, accent chairs, coffee table, area rug, and more. 
For example, you can create a new reading corner with a few chairs and a small table. Add a decorative lamp and arrange a short stack of vintage books on the table to add some appeal. And don't forget to add greenery if you have a small basket that's just collecting dust elsewhere. 
Additionally, if you have a wicker chair that's not being used except to catch clothes, consider adding a bright, new cushion and place it near a window. Another cost-effective idea for breathing new life into your furniture is painting the coffee table to add a new focal point.
Showcase Your Love of Literature
By adding a well-organized bookcase to your living room, you'll be simultaneously showcasing your taste in literature and your organizational skills. Bookcases are an immediate eye-catcher when entering any room. 
To that end, make yours an attractive and orderly library for your most beloved books and knickknacks by creating a wall space that not only houses these items but also allows you to organize them in a clever way. 
For a clean and simplistic look, consider using pipe brackets and wood shelves. DIY kits are available for these types of projects and can be purchased in a variety of sizes. Another space-saving idea is to position bookshelves over some doorways. 
Change Your Lighting
Another way to refresh your living room is with some new lighting. Swap out old lightbulbs for LEDs to not only create a softer glow but also transform any dark or dim room into a brighter and seemingly bigger area. Changing lampshades is another inexpensive idea for creating a different decorative style. 
Alternatively, adding a floor lamp to a corner or other low-lit area can change the aesthetics of your living room. And if you aren't satisfied with your overhead lighting, consider replacing it with a new chandelier or another type of ceiling fixture. Indeed, you have myriad options for adding decorative lighting.
Consider These and Other Options to Update Your Living Room
Ready for a change, but not prepared for a total overhaul? Then consider these tips for creating a fresh and energized vibe to your living room. Save money by rearranging or repurposing what you already own. Add a lamp or two to change the lighting and overall mood of the room. And don't forget to swap out your wall décor for a new look that's both stimulating and inviting. Making a few changes may be all you need to shift the energy of the room. Voilà!