You probably feel the heat and realize that summer is coming soon enough, and the problem for those women who wear wigs is that how to keep cool and fresh in hot summer. Due to the humidity and high temperature, wearing wigs can cause you discomfort with pouring off sweat and unbearable itch. So the alternative choice is that you can go for hair weaves to give your natural hair a break from heat and sweat. Before we diving into talking about the advantages of hair weaves, we need to know what is a weave.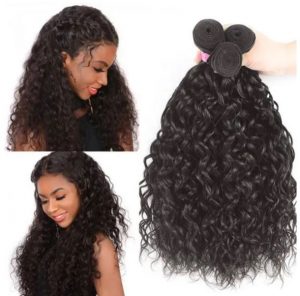 What is hair weaves
A hair weave is made of human hair or artificial fabric which aims at simulating a real hair touch and look. Using hair weaves can add length or volume to change your appearance for a certain time which depends on the hair quality from hair vendors. And you can change your hair color without damaging your natural with chemicals, and it can achieve the results as same as wearing colored wigs.
New experience with new styles and colors
As the same as wigs, hair weaves offer you many options for changing your hairstyles by adding a certain texture of hair to your head. You can finish a style in short minutes for your girl's night out or a party. A beach wave hairstyle screams summer, and curly hair can make you fabulous and stylish. And it helps people who suffer from hair loss and thinning by adding more length and volume. Another benefit of weaves is that you can experience new colors or create an ombre style to rock this summer.
More comfort in summer
Wearing a weave means that your natural hair can have access to air and breathe. It's good for your hair to grow and keep healthy if you put your hair under a wig for a long time. So it can prevent and ease the itchy and suffocated feeling of your scalp in hot summer.
Offer protection to your own hair
Your natural hair is protected from the heat that comes from the blow dryer and styling irons, etc. Your hair will not suffer dryness and tangling if you use sewn-in hair weaves, but do remember to install your weaves properly. Otherwise, hair loss and breakage will come for you if your natural hair braid too tightly. And you don't be nervous all the time about the hair falling if you sew in well.
Low maintenance
Comparing with wigs, hair bundles require less time to style and offer more opportunities for women who prefer to switch different looks frequently. The last thing we want to do is that we spend so much time taking care of our hair before going to work in the morning. It saves you money for maintenance and styling, and the price for weaves is relatively lower than wigs. So it's friendly to those who have a tight budget but want to switch up their looks.
There are many benefits of trying hair weaves in summer, and let us know if you have any advice or some other advantages you find out. You can go to unice mall and choose different collections of unice bundles if you're interested in buying weaves. And there are also all kinds of high-quality wigs and colored wigs in unice mall.