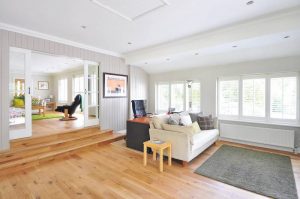 Old, worn-out floors can be pretty frustrating and present a considerable challenge to the homeowner and the builders. While other elements of your home may be easier to deal with, choosing, and installing a floor proves a costly and highly demanding job. You can repaint the walls, replace worn-out furniture on a budget, and add accessories, but when it comes the replacing the entire floor, you find that it's such an expansive and costlier job. There are many flooring styles available today, but that doesn't mean you can just install any floor style you imagine in your space. You will need to choose the right flooring that works best for your building. So, what floor styles can you choose for your home remodeling project?
Hardwood Floors
Homeowners love solid wood flooring as it looks great and works pretty well with any type of decor. Wooden floors are also very long-lasting as they can be refinished several times to eliminate surface scratches. Installing hardwood floors helps increase your home's resale value.
Wood floors are relatively easy to clean. However, these floors may not perform well in high traffic areas and won't live up to rough handling. They also warp if exposed to elements like moisture for an extended period of time. Wood floors are vulnerable to dents and scratches. They are ideal for living rooms, family rooms, and dining rooms.
Engineered Wood
Though it looks like solid wood, engineered wood is made differently. It comprises a thin layer or veneer of natural wood at the top that shows the grains. The underneath layers include less expensive plywood. Engineered wood flooring styles are both cheaper and sturdier. These types of floors give your home a solid wood look but at a marginally low price.
You can also install engineered wood flooring directly over a concrete subflooring surface – this is not possible with solid wood. It's even possible to install them on top of your old hardwood floors, allowing you to save on the cost of ripping out the worn floor. These floors are ideal for enclosed porches and basements but can also be installed in dining and living spaces.
Bamboo Flooring
Bamboo floors have become popular in recent years as they are considered an eco-friendly alternative to wood floors. These flooring materials are available in the form of engineered planks and solid strips. They feature different patterns showing the grain of the bamboo grass. Bamboo floors are tough and durable and can be installed in living areas, bedrooms, hallways, and other places where wood floors could be installed. When used in the kitchen or the mudroom, they may not be so sturdy to ensure good performance.
These are a few flooring styles you may want to consider for your home remodeling project. They are versatile, sturdy, and can be installed in different areas. They also complement the existing decor in your home and transform your house's look and feel. Consider visiting a website like https://floorace.com.au/, next time you are researching flooring options for your next project.
Depending on your property, you may find that other flooring styles may work better. For instance, vinyl and linoleum are resilient flooring and are a good option if you want to install a floor in high traffic areas such as the kitchen, laundry room, bathroom, basement, mudrooms, and dining areas.